A BIG THANK YOU TO ALL THAT HAVE ATTENDED MY WORKSHOPS AT THE ACTOREXPO.
Feel free to download any further information from the theory section of this website, and to drop me a line about how it was for you and if you feel you have learned anything from them. By E-Mail or preferably by leaving a comment on my Bulletin Board.
Take care of youselfes and you carrears....
As a teacher, I started by setting up and running the Drama Centre Foundation course in 1991. I also work in various prestigious British drama schools as a teacher of different acting disciplines and as a visiting director. I have my own very individual style of training, a result of my considerable years of experience and all the workshops I continue to attend. I continuously redefine and reinvent my work. I have run various courses related to acting at: Drama Centre London - E15 Drama School – London Centre for Theatre Studies - The Science of Acting School – CYTO – The Oxford School of Drama – The Courtyard - Central School of Speech and Drama - and RADA. I enjoy, and can be particularly useful, in giving actors a feel for passion and energy, through the use of European writers and texts such as: Pirandello, Goldoni, Lorca, Sartre, C. De La Barca, Ionesco, etc. I am a director that has had first hand experience with the language, people and customs one is trying to recreate. Being fluent in four European languages, I can also help with adjusting some laboriously translated texts.
Some of the schools I have worked in are Universities and I am therefore familiar with structuring class plans, curriculums, performance reports, handouts etc.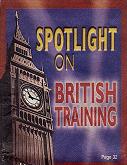 I have had experience in structuring classes for the following:
1.0

Rehearsal Exercise/Play Direction. At all levels; using all types of texts and plays.

2.0

Acting. At all levels. And focusing on:

2.1

Animal work. Using observation and recreation, finding parallels between animal sounds and character energy productions.

2.2

Inner and Outer Characteristics. An exploration of both Outer energies and Inner life. I have a very unique approach to installing the sensation of the "Inner Life" to the actor, with relevant exercises. Incorporating also M. Chekhov's psychological gestures linked to the characteristics; using also characters' voiced and platform thoughts, phone calls etc. etc.

2.3

Theatre games/exercises. A succession of games to illustrate and enlighten students to the demands of acting. Including: Private Moments, Singing exercises, Improvisations.

2.4

Working Actions. Over the last few years I have specialised in teaching Rudolph Laban's Working Actions; adopting a very hands-on, physical, and fresh approach to the subject. Pioneering new ground, and finding a more immediate dynamic and practical application for Working Actions, in answer to the challenges of acting and characterisation. Working Actions Workouts, part movement and part spoken. Beats/change exercises. Guided Improvisations. Text work. Characterisation work. Movement work.

2.5

Monologue Techniques. A guided series of unique exercises to tackle monologues.

3.0

Text Analysis. The breakdown of text. Covering: beats, actions, activities, energy productions.

4.0

MaxiMix I have developed a 3 hour actor's workout I call the "MaxiMix", which I have been experimenting with more mature students. It is a hard core emotional and physical release exercise and a lot more. To be done in a big room (a dance studio preferably) with a good sound system, some cushions and tissues! It has been proved to be very very good: even if definitely not for the fainthearted.

"The Training starts with the actor's work on himself. Once the decision has been made to go down the "Acting" road a continuous process of self analysis and observation must consciously start. And never stop. An actor must learn to face himself, and to hide nothing from himself; and to do so takes an insatiable curiosity about the human condition and self awareness. That's why actors spend a lot time and money in therapy.
The first step consists in learning to recognise your faults, your limits, your reasons, your emotions, and what triggers them. Find the Hitler and the Jesus in you. Rediscover and revisit pleasure and pain in your life, face your fears, and find out what lies behind the words we say… That is what should interest us all. And we all know that it is not what you say but how you say it, and what you really mean that counts.
Then one needs to focus his attention to the world around us. Watching others finding out their credos. Putting yourself in their shoes. Feeling for them. How many times do we do that in real life? No matter how much we are asked to by our lovers, parents, or customer services personnel.
The last stage is to transcend ourselves, leave ourselves alone and transform ourselves by choosing to represent a character with their set of characteristics and shutting out all that is not necessary or relevant. It's like shutting windows to the soul that are not necessary and focus on the essence. The ability to transcend ourselves has the added benefit of giving us a chance to be reborn and reinvented every day of our life. Also for the actor should leave his EGO behind with every role, then… that way he may learn something new every time, even about himself." – M.M.

TESTIMONIALS:

"Dear massimo,thank you so much for such a great lesson and inspiring chat yesterday, you are truly an amazing person and teacher."
Nathalie Clarke - LAMDA

"Dear Massimo, I wanted to write and thank you for two crazy and memorable weeks on the RADA Contemporary Theatre Course. On completion of the two weeks I had not only rediscovered my passion for acting, but felt truly alive for the first time in a number of years. I couldn't have hoped for a better (or more insane) director and was so pleased we got you. Thank you again, it was a real pleasure working with you."
Alice Brown - RADA

"Hi Massimo, Just wanted to say how much of an inspiration you were and still are to me as a director and a teacher. You really pushed me and made me think outside the box in terms of acting and I still use your techniques when I have a good role to play."
Sascha Cooper - THE COURTYARD

I am available for one-to-one tuition upon request. E-Mail me if interested.

I will be giving some seminars, sampling some of my work
in October 2008 in London at: