"As a director I worked at the Edinburgh Festival and on the London fringe, where I have managed to secure a reputation for innovative, challenging and thought provoking work. Often rewriting, adapting and re-inventing major works, or devising new shows. I was touched and influenced by Complicite's and Joan Littlewood sense of the ensemble; by Grotowski's and Meisner respect for acting and actors, and Shared Experience and Forced Entertainment physicalised action theatre." - M.M.
MY NEXT PRODUCTION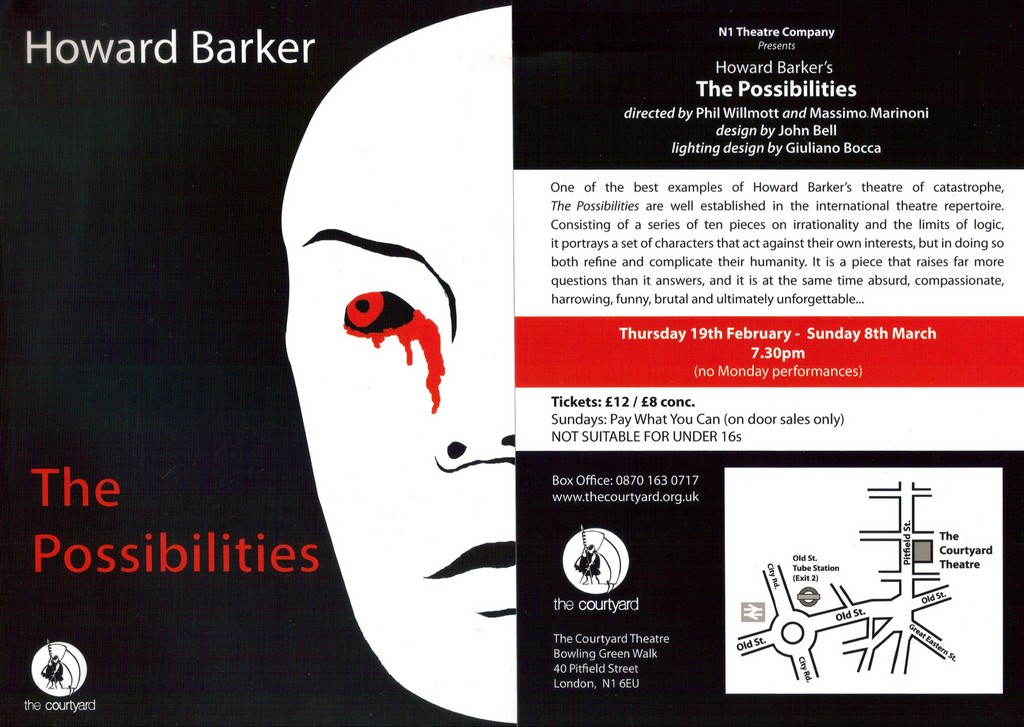 By clicking on the flyers you will get to the photo galleries of the various productions.
I have directed many more, but here is a selection of my favourites.
'Oh, What A Bloody Circus!'
by Eugene Ionesco

"Absurdity, alienation, death. In that order. Not wholly unfamiliar territory for a Ionesco play, but what is remarkable about Massimo Marinoni's take on this paranoid, angst-ridden piece is the way in which he throws you right inside the protagonist's head. Seated on three sides of a bare black box stage, the audience scrutinise each other as much as the action. With daring, invasive entrances and exits Marinoni creates an energetic, crackly paced, surreal piece with some stunning visual tricks topped by a disturbing coup de theatre finish. Ionesco's theatre was criticised for having no social relevance, but this play delivers the Donne-like message that no one is an island. Marinoni's direction draws for the most part good performances his 21-strong cast, although occasionally misjudged acting introduces minor wobbles. Thankfully, they don't disrupt the piece, which is a valiant, imaginative and ingaging fringe production of this rarely performed play.."
Mark Espiner - Time Out




'The Shagaround'
by Maggie Nevil

"As far as my directing methods are concerned, I work hard with my actors, constantly trying to stretch their abilities, often beyond their imaginations and expectations. My warm up are arduous and challenging, as I have great aspirations, visions and respect for the art. I have a significant number of followers to this method. I also believe in an organic growth to a performance, not a preset." – M.M.

'The Texas Chainsaw Travelling Horror Picture Show'
by BlackmarketX

"I decided to get involved with the Texas Chainsaw (traveling) horror picture show, because it is a group of diverse performers from all walks of life and with various talents, a mixed bag of oddities, but with one big similarity, their unconditional love of art, and their dedication to stretch themselves beyond their comfort zone, to be challenged and to challenge themselves in order to rediscover the performer within, and to take active participation in the creation of something new and unique! People with a lot of art in their lives, that understand the need to constantly reinvent themselves in order to feel truly creative and grow to become better people/performers" - M.M.

'You are Right if you sat so!'
by Luigi Pirandello

"There are flashes of real invention in Massimo Marinoni's new adaptation of Prandello's disturbing comedy of truth and illusion.
The first half advances conventionally enough but things bloom after the interval with performers making use of all the Courtyard Theatre's public spaces and Marinoni relocating the drama to a television studio for the play's fraught denouement."
The Stage

"Adapted and directed by Massimo Marinoni, the N1 Theatre Company's rendition of the drama works pretty well with some amusing up to date adjustments to include audience participation and outtakes from the likes of Jerry Springer and The Trisha Show. It's both quirky and cerebral theatre that makes for a highly entertaining evening and another feather in the Courtyard's Cap."
Dale Maitland Cartwright.